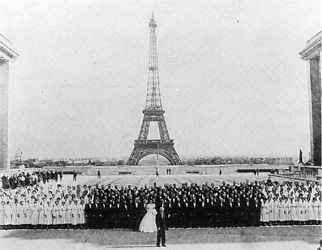 The Mormon Tabernacle Choir was nominated this year for Grammys in the best classical crossover album and best engineered classical album categories. In neither category did the Choir win this year.
Above is a recent photo of the Choir performing in the LDS Church Conference Center in Salt Lake City, featuring one of the largest pipe organs in the world.
Also, the second photo was taken on the Tabernacle Choir's 1955 tour of Western Europe.